What's your camping style?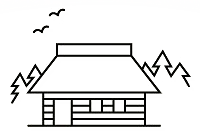 "Peace, Quiet and Comfort"
Our holiday rentals are made up of freshly renovated chalets and mobil'homes designed for friends and families looking for plenty of space and comfort right at the center of all the action.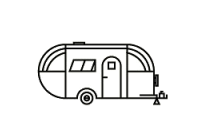 RVs are welcome here. Take a break from the road for a few days, park in the middle of the action and enjoy all the amenities the camp has to offer.

"We stayed here last night, we met a dear friend and this campsite has great pitches. Big so you have your privacy. My husband went for a swim and that was great in his opinion. The toilet and showers immaculately clean. It's quiet and a great campsite to visit. I'm very aware of the welcome we get and this camp did not disappoint. If you want a relaxed quiet stay and very clean amenities then stay here. If we're ever back in the area from Australia, we'll definitely stay here again!"

"Everything was just right"
"A great site, super-friendly team, everything was just right. Free navette into Bagneres de Bigorre was a bonus. Bagneres is a really lovely town with lots to see and do. Some great places to eat and drink. Handy for some proper walking or proper road cycling – Hautacam, Tourmalet, Luz Ardiden, Col d'Aspin are easily reachable by bike. Lourdes is easy to get to if you're driving, or by bus and train if you're not. All less than four hours' road time from Bilbao. We're planning to be back. Merci Cristelle!"

"Family stay in one of the mobile homes. We had a very nice stay in one of the new mobile homes. When we arrived we were met by the nice friendly staff at the reception. The mobile home was clean and had all the comfort we were looking for. There are a lot of nice places to visit and when you want to stay on the camping you can go to one of the two nice pools. We liked this place very much!" (Remko, July 2019)

"Perfect for Tour de France"
"One of the better sites we have stayed at! We used this campsite as a base to watch three stages of the Tour de France and it more than met our requirements. The staff were friendly, the pitches were generous and grassy, and the on-site facilities were more than we needed. The site isn't cheap but it is well maintained and relaxed. Would certainly use again and would recommend." (David, Aug 2019)
CAMPING LE MONLOO
6 Route de la Plaine
65200 Bagnères-de-Bigorre, France
email: campingmonloo@yahoo.com
tel: (33) 05.62.95.19.65
What's happening right now?
[powr-social-feed id=0f815f78_1542823525]