Welcome to camping Monlôo! The beach in the foothills of col du Tourmalet! Facing the Pic du Midi! Book today for your dream vacation in the Pyrenees!
What's your camping style?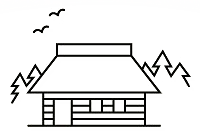 "Peace, Quiet and Comfort"
Our holiday rentals are made up of freshly renovated chalets and mobil'homes designed for friends and families looking for plenty of space and comfort right at the center of all the action.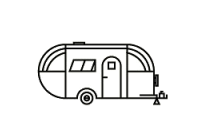 RVs are welcome here. Take a break from the road for a few days, park in the middle of the action and enjoy all the amenities the camp has to offer.

"We stayed here last night, we met a dear friend and this campsite has great pitches. Big so you have your privacy. My husband went for a swim and that was great in his opinion. The toilet and showers immaculately clean. It's quiet and a great campsite to visit. I'm very aware of the welcome we get and this camp did not disappoint. If you want a relaxed quiet stay and very clean amenities then stay here. If we're ever back in the area from Australia, we'll definitely stay here again!"

"Everything was just right"
"A great site, super-friendly team, everything was just right. Free navette into Bagneres de Bigorre was a bonus. Bagneres is a really lovely town with lots to see and do. Some great places to eat and drink. Handy for some proper walking or proper road cycling – Hautacam, Tourmalet, Luz Ardiden, Col d'Aspin are easily reachable by bike. Lourdes is easy to get to if you're driving, or by bus and train if you're not. All less than four hours' road time from Bilbao. We're planning to be back. Merci Cristelle!"

"Lovely location and scenery"
"We were there out of season, so very quiet, but all facilities well maintained, including the grounds. Good email communication from Christelle and warm welcome given by Stephanie. Easy for the town and shopping, with an Intermarche, Lidl, and other stores a couple of minutes by car, five min bike or 20 min walk. Scenery lovely. Well worth a visit and exceptional value for money. Wifi 5€ for a week so well worth it and good speed. Quiet day and night as well away from a minor road. Easy cycling in area!"

"Weer genoten! Voor tweede jaar op rij op camping le monloo verbleven. Net als vorig jaar hebben we er heerlijk gezeten. Kinderen vermaken zich prima in de lagune! Dit jaar beduidend meer nederlanders op een camping die toch wel gedomineerd wordt door fransen, maar dat maakt voor ons of onze kinderen niet uit. Personeel heel vriendelijk! Op dag van aankomst werd ons gezegd dat we eerst de tent op mochten zetten alvorens te betalen, want er werd regen voorspeld. Ook hadden wij om het zelfde plekje gevraagd als vorig jaar en hebben deze ook gekregen! Helemaal super! Wij komen hier absoluut weer terug."
CAMPING LE MONLOO
6 Route de la Plaine
65200 Bagnères-de-Bigorre, France
email: campingmonloo@yahoo.com
tel: (33) 05.62.95.19.65
What's happening right now?
[powr-social-feed id=0f815f78_1542823525]